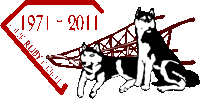 ---
Copyright © 1998--2011
Northern California
Siberian Husky Club, Inc.
All rights reserved.

This page last updated: 05/2011
Past Events and Photos
This section of the NCSHC website will change from time-to-time, as our events occur. So, please check back periodically for new results and photos.
Currently, you will find a few photos from our SnoWeekends, as well as an electronic copy of the catalog from NCSHC's biennial Matches, Specialty Shows, Obedience Trials, and Sweepstakes. Click on the button at the left for the specialty results.
You will also find the results from our sanctioned matches, Snow trips, and Carting events!
FLASH! JUST ADDED: MARKED CATALOG FROM OUR 2011 BACK-TO-BACK 40TH ANNIVERSARY SPECIALTIES!