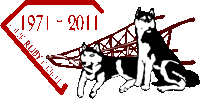 How to . . .
Once you have your own Siberian, you will find that some basic training can help make your life easier, and your Siberian become an even more important member of your family! Every dog, especially one as energetic and intelligent as a Siberian, needs to learn the rules of your household.
Additionally, as your Siberian becomes more a part of your life, you may find yourself captivated by the lure of dog sledding, and you might want to see if it is the sport for you (you KNOW it's the sport of your dog!). And, as you train your Siberian, you might be intrigued at the idea of pursuing more obedience training, or trying the fun sport of agility.
Whatever your interest is, some of the members of the NCSHC can share some of their experiences and recommendations with you on Basic Training (including crate training, potty training, and leash training), Beginning Mushing, Basic Obedience, and Agility.
Copyright © 1998, 1999,
2000, 2001, 2002,
Northern California
Siberian Husky Club, Inc.
All rights reserved.

This page last updated: 01/2002